Yes, this post is specially for all bloggers and authors who want their article to be most searched one on all search engines, well after writing a post the most tiresome job is to add keywords/tags to it. Many authors just fill the keywords field ("All in One SEO Pack") with just two or three words that are related to the post, however this is the most important part for making your article more searchable across all search engines.
Here are two simple ways which may help you in finding most searched and important keywords for your article, hence improving your SEO.
Assume that you have a blog on technology and you are writing a post on iPhone Emulator. Just GOOGLE "iphone emulator" and google will provide you with the important suggestions. These suggestions comes from the search trend that people do related to the article you are writing.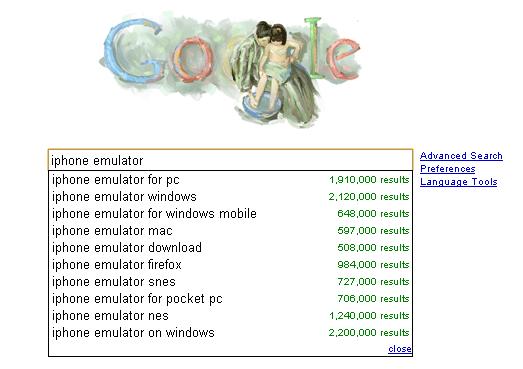 Google Related Search Terms:
For example you are writing a post or want to write a post on iphone, do check out the "Google Related Search Terms" at the bottom of the google search results page. Just search the keyword on google and scroll down to the bottom of the result page. Have a look at this screen-shot.
Conclusion: Well the above two methods are just quick and simple ways to find great keywords for your SEO purpose. Well i am using these two methods for very long time. Please note that you should still go through your post and find related keywords according to the latest searches analysis and competition analysis which is important to bring your article on the first page of google search results.