Share
Well here is a simple and short solution for unblocking anywebsite on anyserver. Sometimes there are websites which are blocked by the administrator and you cant access these websites from any system connected to that LAN. Well by using "Ultra Surf" you can access anywebsite whenver you want, no matter even that domain is blocked by your administrator.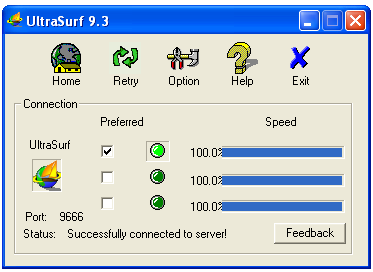 Here is a step by step procedure.
Download "Utra Surf" from here [Its Free]
Unzip and run "Ultra Surf.exe".
You will see this window: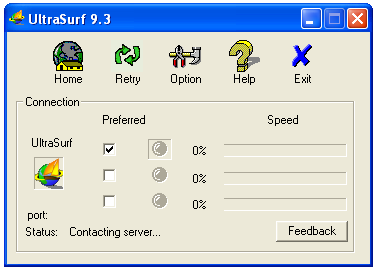 Well next step is to set the proxy.
[Its the proxy through which you are connected to Internet on LAN]
After Setting your proxy and port "Manually", click OK and restart UltraSurf
Now speed indicators will turn "BLUE" and Status will be changed to "Successfully Connected To Server" as shown in the first image.
Now open your Internet Explorer or Firefox to explore any website.
I have tested it in my university where many websites like facebook, youtube and orkut are blocked by our admin
Ultra Surf Firefox Extension:
Advantages:
Privacy: Protect Internet privacy with anonymous surfing and browsing, hide IP addresses and locations, clean browsing history, cookies & more ...
Security: Completely transparent data transfer and high level encryption of the content allow you to surf the web with high security.
Freedom: UltraSurf allows you to overcome the censorship and blockage on the Internet. You can browse any website freely, so as to obtain true information from the free world.
Special thanks to Aamir Abro from EME [Our Regular Visitor] for telling us about this great software.