Hey i installed windows live messenger 2009 but while signing in i got this error code 80040154 again and again it was so irritating for me… I tried different links… updating registry…. but nothing helped…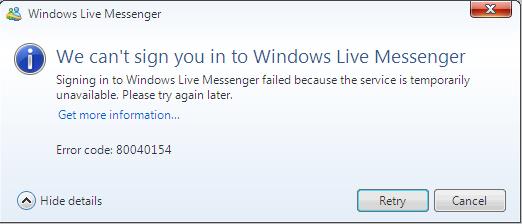 REGSVR32 %windir%\system32\msxml3.dll
I used this command for updating registry for msxml but same was the result….
but then finally i got the solution file.
and installing this contacts.msi file really helped me solving the issue and now i am using it =)) it was really a heck for me…. and i heard from my friends that they are facing the same problem….so i shared it with you people….. just go to the link….download the file n install it…. i hope it will be helpful for you too…  cheers =))….
Get the file from Here.