Share
Just as we thought that Panasonic, with the release of its 240GB camcorder, will leave Canon way behind, the Japan based company comes up with a couple of updated models, the HF 21 and the new flagship HF S11. Both these models have an integrated memory of 64 GB which is double than their predecessors, with the latter also adding in a new night shooting mode and more advanced image stabilization.

For those of you, who are not much familiar with AVCHD, it is basically a format for recording and playback of high definition (HD) videos. And camcorder is ofcourse a portable consumer electronic device for recording video and audio using a built-in recorder unit. Lets get back to the HF S11 and HF 21. The expanded storage of 64 GB will allow up to five and a half hours of recording at the top quality settings, which still is way behind in comparison to the 30+ hours you can get from Panasonic's HDD-equipped camcorder. The new HF S11 and HF 21 use Canon's DIGIC DV III Video processor and also have an SDHC card slot.
The HF S11 has a 1/2.6-inch CMOS capable of up to 8-megapixel pictures, while the HF21 has a 1/4-inch CMOS and up to 4-megapixel stills.  Each has optical stabilization, an optical zoom ,10x in the HF S11 and 15x in the HF21 and face-detection, together with a 2.7-inch wide-aspect LCD preview screen.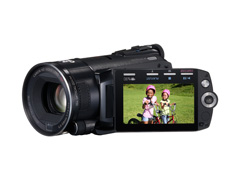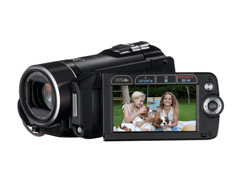 Connectivity includes USB, headphones and microphone-input, and there's an optional underwater kit for the HF21.  Both will go on sale in Japan in August. However, there's no announcement of the prices as yet.