>Here are some cool and inspiring pictures of Palm Islands and Burj Dubai [The Tallest Building The In World]. Even these pictures are bit outdated but i am sure these are new to many of you. Well one would love to have a home sweet home on such places.
The Palm Islands:
The Palm Islands are artificial islands in Dubai, United Arab Emirates on which major commercial and residential infrastructure will be constructed. They are being constructed by Nakheel Properties, a property developer in the United Arab Emirates, who hired the Dutch dredging and marine contractor Van Oord, one of the world's specialists in land reclamation. The islands are the Palm Jumeirah, the Palm Jebel Ali and the Palm Deira.
Each settlement will be in the shape of a palm tree, topped with a crescent, and will have a large number of residential, leisure and entertainment centers. The Palm Islands are located off the coast of The United Arab Emirates in the Persian Gulf and will add 520 kilometres of beaches to the city of Dubai.
The first two islands will comprise approximately 100 million cubic meters of rock and sand. Palm Deira will be composed of approximately 1 billion cubic meters of rock and sand. All materials will be quarried in the UAE. Between the three islands there will be over 100 luxury hotels, exclusive residential beach side villas and apartments, marinas, water theme parks, restaurants, shopping malls, sports facilities and health spas.
The creation of the Palm Jumeirah began in June 2001. Shortly after, the Palm Jebel Ali was announced and reclamation work began. The Palm Deira, which is planned to have a surface area of 46.35 square kilometre. Construction was originally planned to take 10–15 years, but that was before the impact of the global credit crunch hit Dubai.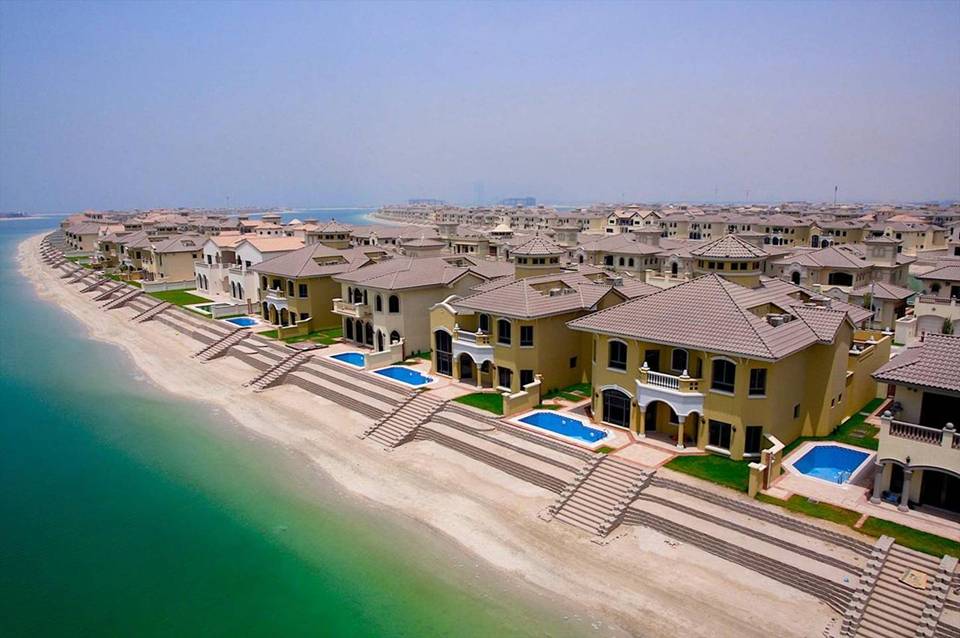 Burj Dubai:
Burj Dubai is a super tall skyscraper under construction in the Business Bay district of Dubai, United Arab Emirates, and is the tallest man-made structure ever built, despite being incomplete. Construction began on September 21, 2004 and is expected to be completed and ready for occupancy in September 2009.
The building is part of the 2 km (0.8 sq mi) development called "Downtown Dubai", at the "First Interchange" (aka "Defence Roundabout") along Sheikh Zayed Road at Doha Street. The tower's architect is Adrian Smith who worked with Skidmore, Owings and Merrill (SOM) until 2006. The architecture and engineering firm SOM is in charge of the project. The primary builders are Samsung Engineering & Construction and Besix along with Arabtec. Turner Construction Company was chosen as the construction manager.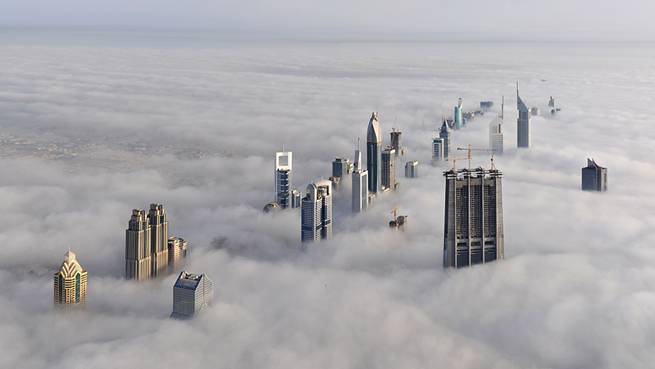 Look at the edge (uppermost right corner) of the picture, you can almost see the turn of the earth. The persons who are working on the upper most Girders can see the 'ROTATION OF EARTH'. So terrifying