Most of the viruses and other threats use autorun.inf file to automatically run a file or script to damage the host machine. Best way to get save is to disable any kind of autorun, which can be done using group policies of the Windows. For non technical users of the windows Panda has released this USB vaccine utility which can do the task easily.
USB vaccine is a free solution which basically doesnot allow any readability, modification and creation of the autorun.inf file in any removable drive.  Therefore this simple tool provides high degree of protection against malicious attacks.
Some of the features of the latest version are following.
Support for vaccinating NTFS drives. This uses a completely different technique than the vaccination of FAT/FAT32 drives.
Executing USBVaccine.exe launches an installer which allows you to configure whether you want USBVaccine to start automatically with Windows.
Configuration option during setup to hide the tray icon.
Configuration option during setup to automatically vaccinate any new USB drives inserted into the PC.
Fixed bug on PC shutdown when USBVaccine was running in the background (Vista).
Other bug fixes reported by users on certain types of USB drives.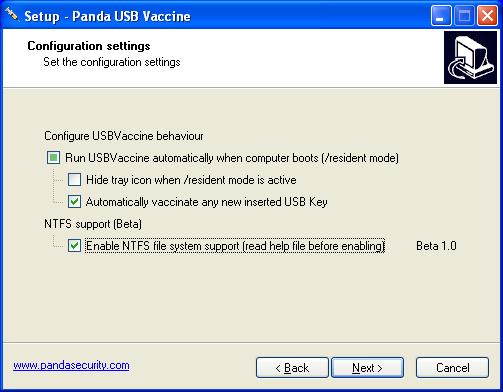 You can download free utility from Here.
StumbleUpon | Digg | Reddit | Tweet | Facebook | Technorati | Delicious | Ping.fm | Slashdot