EA is claiming that FIFA 10 is the best soccer game ever made. But their rivals Konamiā€™s Pro Evolution Soccer will surely again give them a tough fight. On the verge of claiming 25 international gaming awards with FIFA Soccer 09, EA surpassed with FIFA10.More than 275 million online gamers gave their feedback for improvements to FIFA 09. So FIFA 10 is made on already developed game engine and focussing on what the fans really need.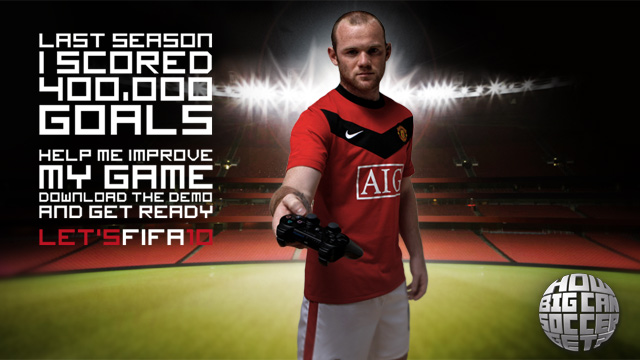 On the pitch, critical gameplay fundamentals have been enhanced to ensure that FIFA Soccer 10 mirrors real-world soccer, providing more sophisticated ball control, and physical interaction. On attack, players now analyze space more effectively, curve their runs in an attempt to stay onside, create passing lanes naturally, and drive for more variety in attacking options. On defense, new concepts like position priority enable defenders to multitask so dangerous spaces left open by teammates out of position are covered. Plus, slide tackle targeting, press marking, and better urgency clearance logic provide new options that make defending a tactical skill in FIFA Soccer 10.

Official date of release is October 20, 2009. However demo version is now available to get your hands on the game. You can download the game for PC, Playsation or XBox 360.
Game Requirements:
CPU with 2.4 GHz (single-core)
512 Megabytes of RAM (1 GB required for Windows Vista)
DirectX 9.0c Compatible 3D accelerated 128 MB video card or equivalent
(must support Shader Model 2.0 or above)
DirectX 9.0c Compatible Sound Card
MS compatible mouse
Keyboard
Please note that 16 bit colour is not supported
Windows XP SP2 or Windows Vista
Note that Windows 95, Windows 98, Windows 2000, Windows ME, and Windows NT 4.0 are not supported.
The title may function in Windows 7, however this operating system is not officially supported.
FIFA Soccer 10 Demo can be downloaded from Here.
Full game version Ā is available on different torrents. If you want that you can have a try if its working.

StumbleUpon | Digg | Reddit | Tweet | Facebook | Technorati | Delicious | Ping.fm | Slashdot