Hiz. I just want to share a nice feature of Windows 7 which i discovered yesterday. Sometimes you want to delete files that are in use by your system. In this case Microsoft Windows gives you a certain type of message that this file is being used by another process. But this message is bit different in windows 7. In Windows XP when you want to delete a file that is being used by your system then in this case you receive a blunt error.

On the other hand when you want to delete a file in Windows 7 that is being used by any program then Windows 7 not only tells you which program is using that file but also provides you with the useful "Try Again" button so that you can first free your file from the program that's using the file and then you may hit the try again button to successfully delete your file.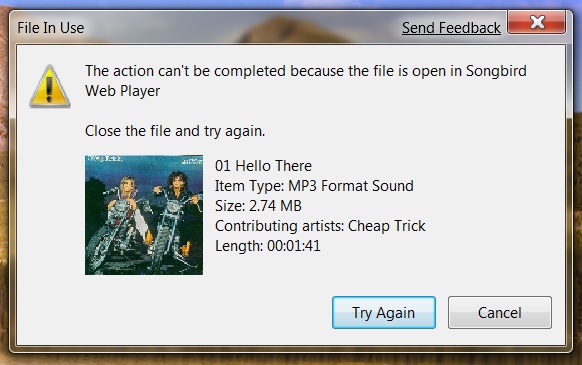 So, unlike Windows XP, in Windows 7 you don have to go to task manager and see which program is using your file, so that it may be ended manually. I wonder if Microsoft have provided us with the option to end that specific task in the same dialog box.
StumbleUpon | Digg | Reddit | Tweet | Facebook | Technorati | Delicious | Ping.fm | Slashdot