MID is an acronym of Mobile Internet Device. The super beautiful MID from Viliv is called X70 and it is the sleekest MID i have ever seen. As far as my view is concerned, i think this MID should be the minimum standard for every MID. This device is not only the cool in style but also have got many cool features under the same hood.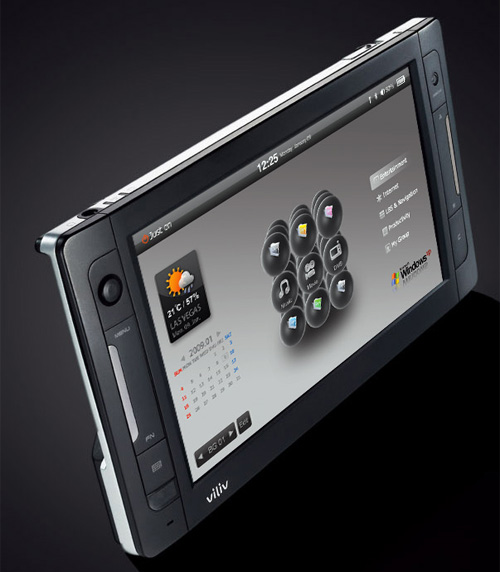 "The best thing which i liked in this device that this MID supports not onl Microsoft Windows Operating System but also Linux"
Viliv X70 has Intel Atom Silverthorne processor and it runs at 1.33 GHz. Well one the the feature of this MID that keeps it on the upper edge among other MIDs is that this MID have got 7-Inch LCD that has the resolution of 1024 x 600 i-e something that we normally see in 9-10 inch displays. Moreover the display is a touch screen and has a physical dimension of 210mm x 117mm x 22.5mm i-e less than 1-inch thick.
This MID is equipped with the virtual keyboard. It has 1-GB of internal memory, i think it should be at least 2-GB. As far as storage is concerned, it can handle upto 8G/16G SSD or 30G/60G hard drive. But at the same time it have got only 1  SD/SDHC slot.
Viliv X70 is equipped with WiMax, HSDPA, Wifi 802.11 b/g and bluetooth v2.0 with EDR which make it a well connected MID. Not only this but it has a USB port and a multi-io port for cradle connectivity option. GPS support makes this MID more demanding.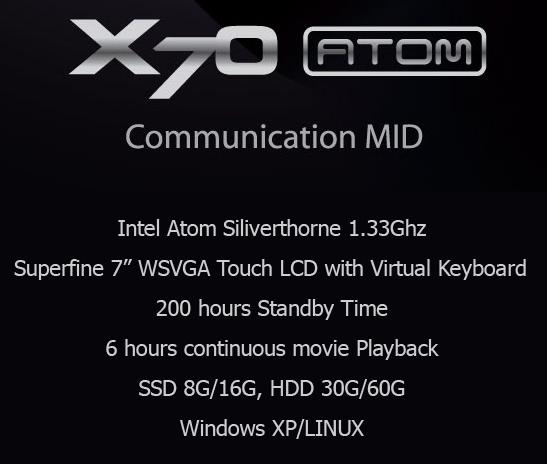 Where Viliv X70 is equipped with almost all top connectivity solutions, it has also got the great multimedia support. For almost 6 hours it can play high quality video. It has a built-in mic, audio connector and stereo speakers. And all this features is packed in a device that weighs in at only 660 grams. That's only a bit more than half a kilogram.
The usage of this device is very vast, it can be used by students as their netbook or virtual book. Mobile bloggers can find this device very useful for blogging. Mobile computer for field reporters. Remote diagnosis for medical teams. In car computer for car owners. The applications are endless. Just use your imagination. As far as its price is concerned, its not available yet. By pondering for a minute over all the features this MID offers, it easy to guess the level of  its price
StumbleUpon | Digg | Reddit | Tweet | Facebook | Technorati | Delicious | Ping.fm | Slashdot