Share
Cloud Computing is a computing paradigm where services and data reside in shared resources in scalable data centers, and those services and data are accessible by any authenticated device over the Internet. It is one the most significant trend today, and is getting a lot of praise as an approach to rapidly include new computing facility and reduction of costs. Many enterprises and firms like Intel as well as AMD are working hard to determine how best can they expand this immature technology called Cloud.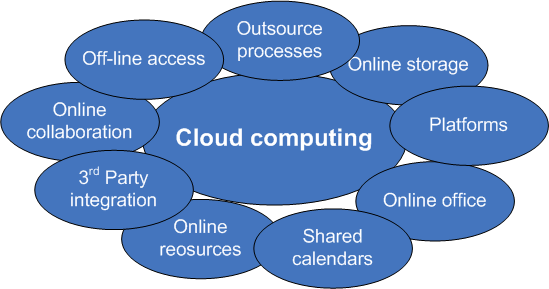 However some factors are not allowing enterprises to widespread adoption of the external clouds. These include security risks, immature technology and few other concerns for the firms .As the technology is still in development and testing phase so it is prone to security risks and delay in executing the service within time.
Intel's strategy for the cloud computing is based on developing the cloud from the inside out. They already started an internal virtualized computing environment to increase Cloud attributes with the passage of time and this internal environment is swiftly expanding and evolving in the laboratories of Intel.
Three categories of external Cloud are :
Software as a service (SaaS): Software deployed as a hosted service and accessed over the Internet.
Platform as a service (PaaS): Platforms that can be used to deploy applications provided by customers or partners of the PaaS provider.
Infrastructure as a service (IaaS): Computing infrastructure, such as servers, storage, and network, delivered as a cloud service, typically through virtualization.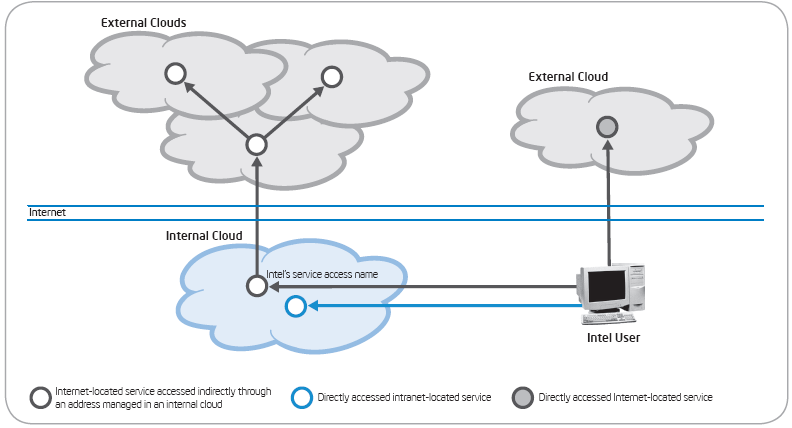 Obviously a lot of applications are not apt to hosting in external clouds looking at the present development. Only those applications that have low security disclosure and that are not mission-critical or competitive differentiators for the corporation.
A strategy of growing the cloud from the inside out delivers many of the benefits of cloud computing and it will effectively utilize external clouds over time. It is expected that enterprises will slowly and selectively migrate services to external clouds as supplier offerings mature, enterprise adoption barriers are overcome, and opportunities crop up for enhanced flexibility, agility and lower costs.